The blue radiance of the evening sky. An iridescent green glow.
This is the magic of Luna Ware Light Emitting Ceramics.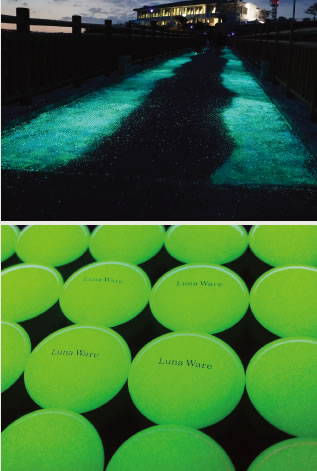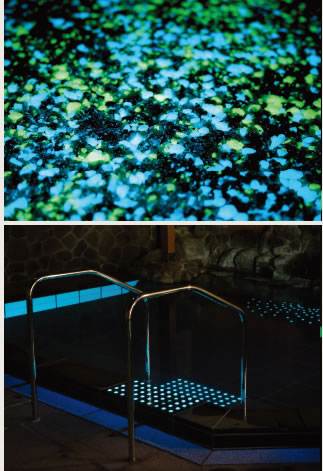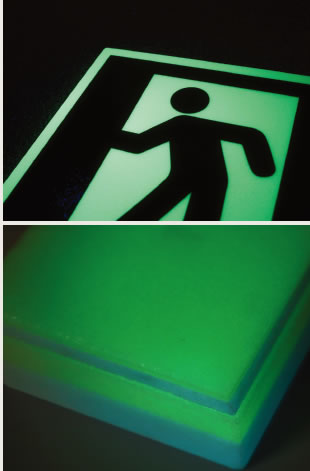 Backed by 400 Years of Earthenware Craftsmanship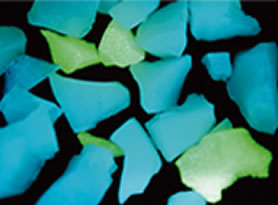 Luna Wareユs heritage starts at a revered 400-year-old Japanese quarry. Arita Ware is known around the world for its superior quality and durability. The finely crafted porcelain pottery and artifacts made with Arita Ware have a unique transparency and glass-like quality that sets them apart from any other premium stoneware.
Luna Ware is the worldユs first light emitting ceramic. Most look- alike products today are made with second or third grade glass. But Luna Ware stands alone in its endurance and luminosity thanks to the indisputable quality of Arita Ware.
No Power Required. The Beautiful Soft Glow of Luna Ware
The ceramics refresh their luminosity from ambient light, not from a power source. In a choice of blue or green, the steady, reliable glow comes from photo-luminescent pigment in the stone, shining through the transparent surface in muted but vivid color. Luna Ware is more than glow in the dark. It is a beautiful and soothing light source unique unto itself.
With more than 12 hours of sustained luminous brilliance, it fully rejuvenates after only 30-minute exposure to the sun or 2-hour exposure to artificial light.
Brighter, more iridescent and more translucent than similar products.
Naturally fire and heat resistance up to 1472 ˚F (800 ˚C) because it is made with high quality earthenware, not glass.
Resistant to scratches, water and chemical damage indoors or out.
As a semi-permanent construction material, it is safe for both indoor and outdoor use. Completely washable, Luna Ware is resistant to water, alcohol and acid, and safe for children and pets too.
In Japan, Luna Ware has been approved for the official use of public safety signs, where a reliable and durable light source is needed in the dark.
When the lights are turned off, when the sun goes down, Luna Ware ceramics come to life with mystical florescence.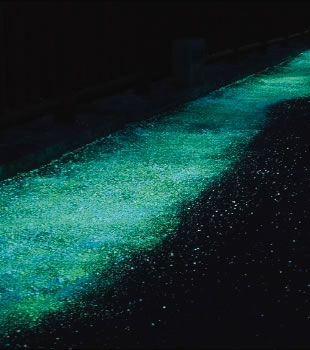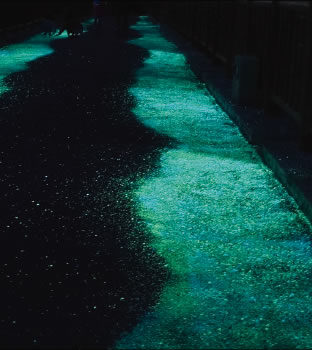 No other company offers such a variety of sizes and shapes--to be used in a limitless variety of applications-- as Luna Wareユs assortment of products.



Circle Drops are self-illuminating elliptical disks .86 inch (22 mm) and .43 inch (11 mm) in diameter. The unlimited uses make it perfect for lighting exterior walkways, indoor hallways, or anywhere a soothing nightlight is desired. Circle Drops are the perfect zero-maintenance back up lighting systemムfor emergencies, for artistic design, for anything you can think of.




Attach them to windows or glass doors to show the glass in the dark. Use them throughout construction sites to pinpoint specific areas. Highlight important features in a wall or floor, or draw a line for direction. Circle Drop Markers are the same size as Circle Drops and can be affixed to any surface where a constant nighttime illumination is needed.




With several different powders, sands and stones to choose from, the variety of Crush Drops sizes and applications are limited only by the imagination. They range in size from a .002 inch (.06 mm) powder to a .06 inch (.15 mm) stone. No matter how small, or spread over how far of an area, Crushed Drops remain brilliantly luminous and brilliantly practical.




Luna Ware Squares may be used anywhere porcelain tiles are used in interior or exterior construction. In blue or green, the sizes range from 1.77 inches (45 mm) to 11.6 inches (295 mm) and in thicknesses of .012 inch (3 mm), .196 inch (5 mm) and .32 inch (8 mm). The variety of sizes makes them perfect for accenting masonry tiles or completely replacing them for a spectacular effect.
Luna Ware Drops may be incorporated into walkways to make a mesmerizing impression. Install Squares or Drops into exterior walls for a uniquely colorful design. Line a walkway for direction and safety. Make bathroom accents that provide beauty and light throughout the night. The uses are endless. The soft glow is beautiful. The durability is superior.